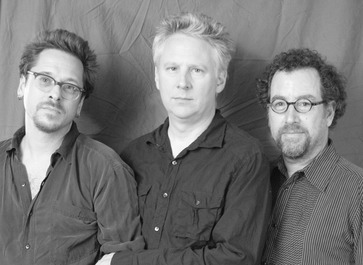 pages coming soon:     past shows     photo gallery     flyer gallery
100 FLOWERS reform
100 Flowers, the post-punk era incarnation of the Urinals, will be playing a limited series of shows in the second half of 2013.  This is a temporary reunion, featuring guitarist Kjehl Johansen, to promote the release of the 100F catalog on Superior Viaduct. 
Our first show will be at the Blue Star Cafe, also w/ URINALS (yes, it IS confusing) on June 22 - details to be announced shortly
Following that, we'll be playing at Viva Pomona on July 27.  Details: https://www.facebook.com/pages/Viva-Pomona/237186266383397

100 FLOWERS on vinyl
3/7/13 - 2013 will be a busy reissue year for us, with a variety of early recordings being rereleased to vinyl.  First up: on March 19th, Superior Viaduct will issue the original 16-track "100 Flowers" LP in the 12" format. You can preorder it HERE.


MIKE ATTA BENEFIT
1/22/13 - This Friday, 1/25/13, we'll be playing at a benefit to assist the Middle Class' Mike Atta as he fights cancer.  For details, see HELP MIKE!  To donate to the cause, see this FUNDRAZR link.
VIVA POMONA
7/15/12 -  Last night, Bastille Day, we played the VIVA MUSIC FESTIVAL at The Glass House in Pomona, Ca.  It was a strong lineup: So Many Wizards, The Babies (no, not that one,) Grass Widow, La Sera, and the Tijuana Panthers.  We were thrilled to have had Grass Widow join us on "Black Hole." Their harmonies really took the tune to the next level. Kudos to promoter Rene, who put the evening together.


BACK FROM SLED ISLAND
06/25/12 - We've just returned from Calgary's  SLED ISLAND FESTIVAL, where we had our Canadian debut.  It only took us 35 years!  Weird that we played China before Canada, but now we're on a roll -- next up: Chechnya, Cambodia, the Czech Republic, Cuba, and The Congo. 


NEW ALBUM 
06/17/12 We keep promising this record -- and it keeps stubburnly refusing to complete! Recorded at Greenhouse Music Studios and recorded by Mike Martt (Thelonious Monster, Tex and the Horseheads,) the new album is currently being mixed by ace engineer Andre Knecht (Human Hands, Urinals) for eventual release.  It's taken a long time, but we're hoping that slow and steady does indeed still win the race.  No set date as yet, but keep your ears open.